Sapar Karyagdyyev for SBC News: Key challenges when adopting a white-label solution
Gamingtec CEO Sapar Karyagdyyev talked to SBCNews about key challenges when adopting a white-label solution, and why companies must exercise caution when entering the iGaming market.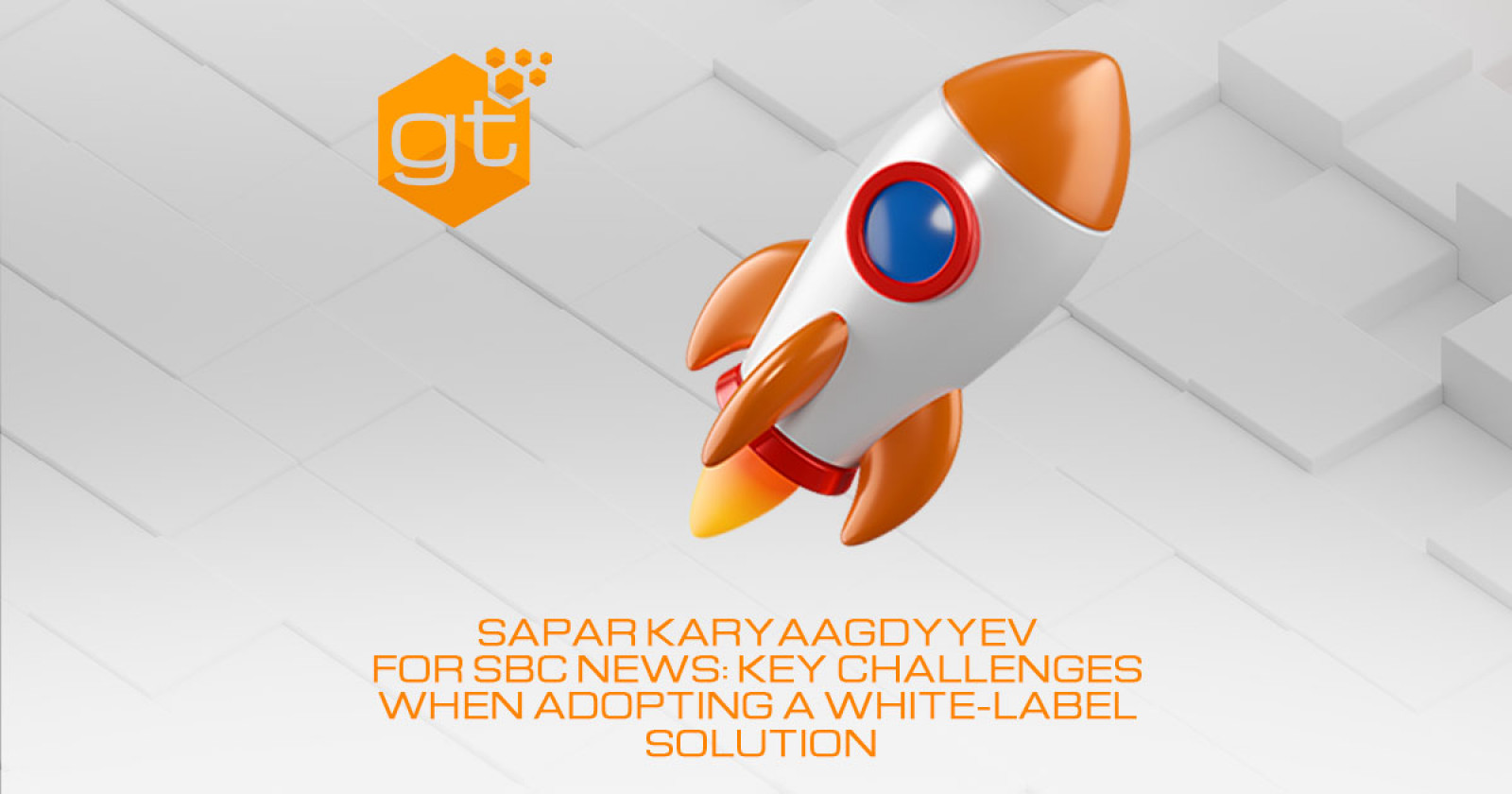 Gamingtec CEO Sapar Karyagdyyev talked to SBCNews about key challenges when adopting a white-label solution, and why companies must exercise caution when entering the iGaming market.
Using a white label offering is one of the most popular solutions for entrants interested in beginning their casino or sportsbook operations. Browsing the internet, one can find lots of tips and suggestions explaining how to start an online gambling business in just three, four, or six easy (as they promise) steps. However, almost nobody writes about the pitfalls one will inevitably face during the process.
Using evidence produced by Gamingtec, I would like to dispel some of the misconceptions about white labels as an "easy solution", and perhaps offer some food for thought for those who wish to enter the business.
According to Statista, the global online gambling market is expected to be valued at more than $94bn in 2024. In 2019, the size of the market was almost $46bn, and that size is forecast to almost double in the upcoming years. The market is growing rapidly and it undoubtedly appears to be a lucrative field for investment.
As a consequence, it has become a highly competitive area: hundreds of casinos are launched and they fail daily. To run a competitive product, both a platform provider and a website owner should pay thorough attention to the preparation and launch process.
There are three main steps to start a casino: preparation, launch and marketing. They require a lot of time, attention and experience to be done well. The platform providers that launch dozens of casinos weekly in most cases use one-size-fits-all solutions and launch generic products that often go unnoticed as they do not meet the interests of the targeted audience.
There are lots of cases where such an "out-of-box" solution fits, however, more often than not, the operator will face challenges related to being one of many and struggling to stand out.
Most markets are being dominated by multitude of small and middle-sized operators, so-called "value brands', which implies lower profit margins for all participants and perfect market conditions for the consumer. More brands compete for the same customer, better offers and the overall value that the customer receives.
Theoretically, such conditions dictate two possible profit making strategies; either be like everyone else – but have a lower cost base – or offer a product that has stand-out features and USPs for the end user. The out-of-box solution works perfectly well for the first option only.
An important factor for success is a fruitful collaboration between operator and platform provider. High-quality products grow from detailed planning and deep marketing research; this is by far the most important part of the whole process of launching a new gambling business. Fail-free operation, security of the information, high-quality content, payment options and professional customer support are all crucial for sustainability of the project.
Frequently, these issues are hidden and difficult for newcomers to foresee. Most are only revealed post-factum, after the launch of the product to customers and as too late or expensive to address. These issues then divert the operator's attention from crucial acquisition-related activities.
Let's review those three main areas – preparation, launch and marketing – in more detail.
With regard to preparation, what are legal requirements for the target territory and advertising limitations? What is the compliance burden? The list of challenges is extensive. This step is important as it allows the adjustments of the TAM (total addressable market), acquisition costs and consequently, profit per user.
The above then drives requirements to the product and platform provider. What is important on the platform? CMS, player management system, bonus and promotions management system, game management system, payment system management interface, responsible gaming features, reporting engine, support of different roles for administrators, affiliate management system, anti-fraud system and CRM (retention system).
Marketing planning is key to develop a marketing strategy on how to launch a new casino to the market in question and collaborate with affiliates, developing a unique proposition that will drive customers to you and not others.
Budgeting? Plan for at least for the first three years.
The launch involves all work related to UX/UI, content, texts, compliance functionalities, personnel training, etc. Ensuring that the product quality and UX doesn't contradict your marketing strategy.
In considering marketing, determine the positioning of the company, pre- and post-launch advertising campaigns, attraction and retention of players, networking with the affiliates.
Those platform providers that offer unique approaches achieve good results. However, this is also a more difficult route to pursue. Custom solutions, by default, mean slower speed and lower quantity. Impact from a failed project is higher as one doesn't have another 100 white-labels to fall back on.
Here's three tips to start a beneficial partnership with the platform provider:
[check-mark-list]
Choose a reliable platform provider that offers a unique approach to your specific requirements. Mass production of casinos can lead to a situation when new websites are clones of the existing ones. Unique design, original marketing campaigns, a high level of customer support – all these are extremely important to attract clients and get a reputation of a reliable business.
Pay attention to the quantity and reputation of content providers and payment providers whose products are integrated into the platform.
Analyse your future end-users (players) and aim to create marketing campaigns that attract them.
Why is white label a good solution for beginners?
Despite some of the pitfalls that I have outlined, I also wanted to give both sides of the argument, explaining that white-label solution can in fact be a good, viable option for beginners in the igaming sector.
Firstly, you receive your own branded product (you will not be a franchise). You will also be able to save both time and effort: the platform provider takes care of contracts with suppliers, licensing, web hosting, and so on. You cooperate with a team of professionals that can guide you through the process and offer advice.
A white-label brand is a test drive to understand if you have enough sources to involve and retain players, and organise a complete development of the project.
To conclude, the white label is not a quick and easy solution, but it is a reliable and effective one. If you cooperate with a platform provider that focuses on your project and launches a unique and personalised website with clear goals and a timeline, then you start a successful business with a high probability.
The original version of this editorial has been published by SBCNews on July 24, 2020, under the title: Sapar Karyagdyyev: Avoiding the pitfalls of a white-label solution