New types of iGaming licences as alternatives: coverage, benefits & costs
A study conducted by the Gamingtec Editorial and Marketing teams.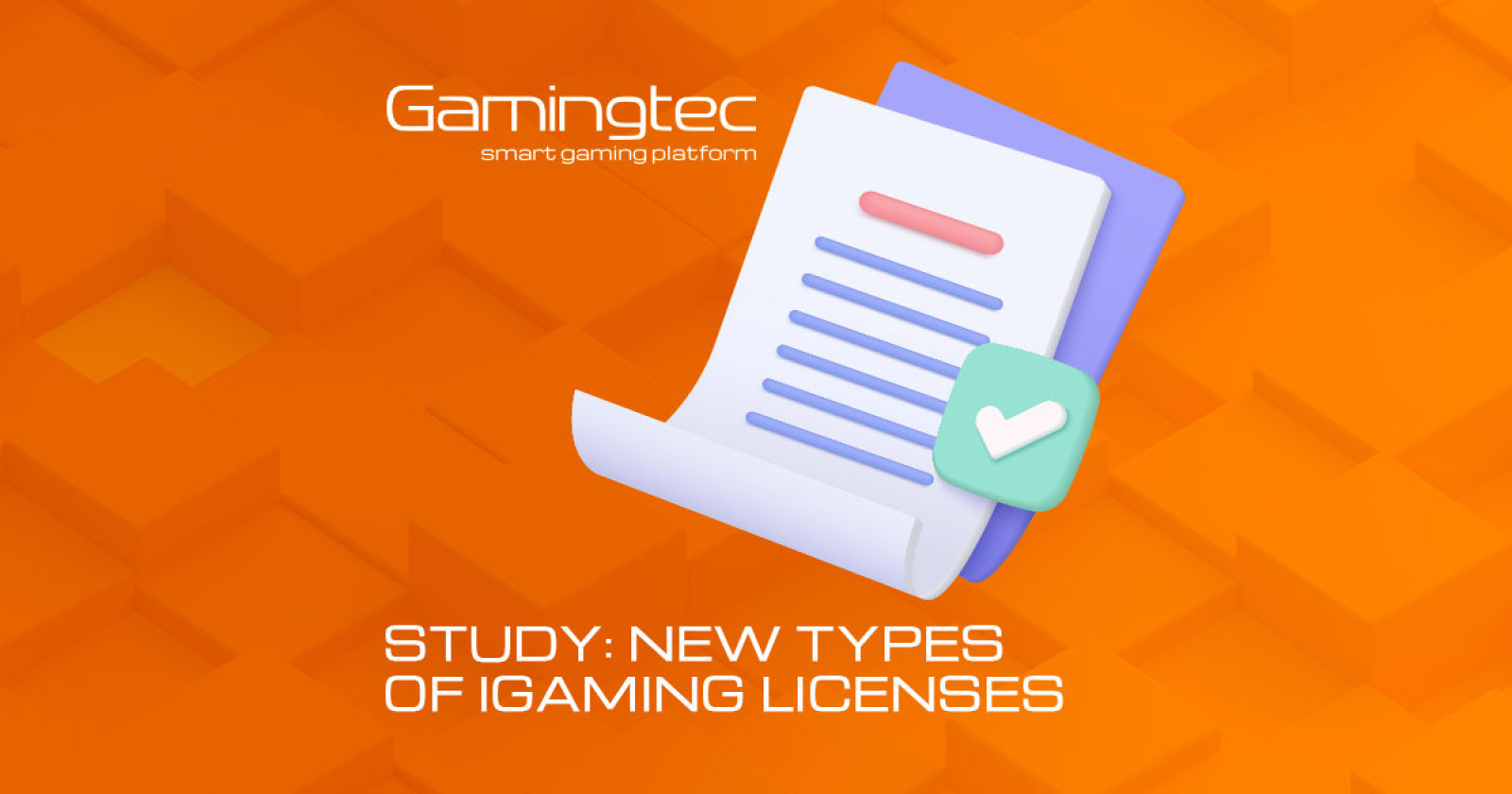 The world of online gaming and gambling has seen remarkable growth in recent years. As the popularity of online casinos, sports betting platforms, poker rooms, and more continues to surge, the need for regulation and oversight has become increasingly important. This is where online iGaming licences come into play, serving as a cornerstone of legitimacy, fairness, and trust within the industry.
What are online iGaming licences?
In the simplest terms, an online iGaming licence is a legal document that grants permission to an online gaming business, allowing it to operate in one or more specific jurisdictions. Just as land-based casinos require licences to operate, online gaming platforms must also obtain the necessary permits to ensure that they adhere to strict regulatory standards. These licences are designed to regulate virtual gaming environments and promote player protection, integrity, and fairness.
The process of obtaining an online iGaming licence can be complex and costly, but it is essential for operators looking to establish a reputable and legally compliant gaming business. Regulatory bodies that issue these licences have specific requirements, including rigorous background checks, financial stability assessments, and compliance with responsible gaming measures.
As shown by data from just 2 years prior, the % share of total GGR of the industry occupied by online gaming appears to have been reinforced by the global COVID lockdowns. Post-event, the normalisation of the market share only projects estimates for increased interest in online gambling. In 2023, while the figures are not yet known, this likely continues to be the case.
Why are online iGaming licences important?
Online iGaming licences offer a multitude of benefits for both operators and players, making them a fundamental component of the industry's landscape.
Legal compliance
The online gaming industry operates in a complex regulatory landscape with varying legal requirements across jurisdictions. Obtaining a valid iGaming licence means that operators are adhering to the specific regulations of the jurisdiction in which they operate. This not only prevents legal troubles but also fosters a trustworthy relationship with authorities, allowing operators to focus on providing an exceptional gaming experience.
Player protection and fair play
iGaming licences serve as a testament to operators' commitment to fair play and player protection. Regulatory bodies rigorously vet licence applicants to ensure that the games offered are based on chance, not rigged, and adhere to strict fairness standards. Holding a licence safeguards players from potential scams and builds a reputation for honesty and integrity.
Credibility and trust
Players exploring the world of online casinos and sports betting platforms seek assurance and trustworthiness. A valid iGaming licence serves as a seal of approval, instilling confidence in potential players. It signals that a platform is reliable, transparent, and committed to treating customers fairly.
Banking and payment processing
Securing an iGaming licence opens doors to legitimate banking and payment partnerships. Banks and payment processors are cautious about associating with unlicensed gambling platforms due to potential legal complications. With a licence, operators can provide players with safe and secure payment options, offering seamless deposits and withdrawals.
Global reach and expansion
For operators aspiring to expand their gaming ventures globally, an iGaming licence becomes a passport to new markets. Many countries have stringent regulations for online gambling, and holding a valid casino or betting licence can help operators navigate these waters smoothly. It's a strategic move that positions them for expansion without hitting regulatory roadblocks.
General requirements for obtaining an online iGaming licence
While specific requirements can vary widely based on the jurisdiction and type of licence, understanding the general prerequisites is essential. These elements form the foundation of a legitimate and responsible online gaming business:
1. Financial stability
Most regulatory bodies require proof of financial stability to ensure that operators have the resources to run a sustainable online gambling business. This often involves submitting audited financial statements, bank statements, and business plans that showcase financial capacity.
2. Background checks
Regulatory authorities conduct thorough background checks on key stakeholders and executives involved in the gaming venture. A clean record is essential to pass this scrutiny.
3. Player protection measures
Operators must ensure the safety and security of players. Licence applications should outline measures to prevent fraud, secure personal information, and offer responsible gaming features like deposit limits and self-exclusion options.
4. Fair gaming practices
Demonstrating fairness in games is crucial. Operators must utilise certified Random Number Generators (RNGs) and provide clear information about game odds and payouts to build trust with players and regulators.
5. Anti-money laundering (AML) and "know your customer" (KYC) procedures
Robust AML and KYC procedures are essential to prevent money laundering and fraud. Applications should detail how operators will identify and report suspicious activities and verify players' identities.
6. Technical requirements
Operators must meet specific technical standards, including secure payment gateways, encrypted data transmission, and measures to prevent hacking and cyberattacks.
7. Location restrictions
Some jurisdictions have geographical restrictions for obtaining licences. Operators must understand the permitted locations and the implications of offering services outside these boundaries.
8. Taxation and fees
Licence fees and tax obligations can vary widely. Operators must provide information about how they will handle these liabilities.
Obtaining a licence is a critical step for operators looking to establish a legitimate, trustworthy, and legally compliant gaming business. These licences offer a wide range of benefits, including legal compliance, player protection, credibility, and access to global markets. While the requirements and processes may vary, meeting these standards is essential for success in the competitive world of online gaming.
Local and offshore licencing
Local and offshore iGaming licences refer to the jurisdiction in which an online gambling operator obtains a licence to legally operate their iGaming business. The primary difference between these two types of licences lies in the location and regulatory authority overseeing them.
Local
A local iGaming licence, sometimes called "regulated", is issued by the government or regulatory authority of a specific country or region. This licence is intended for operators who want to offer their services exclusively within the borders of that jurisdiction. The regulatory body oversees and enforces compliance with local gambling laws.
Operators with local licences are generally restricted to offering their services only to residents of the jurisdiction where they are licensed. They may be subject to strict localization requirements, including the need to have physical offices or servers within the country.
Obtaining a local licence typically requires compliance with the specific laws and regulations of the issuing jurisdiction. Operators may need to meet stringent requirements related to player protection, responsible gaming, and financial transparency. They may also be subject to higher taxes, fees, and operational costs due to the regulatory and compliance standards set by the licensing authority.
Local licences can enhance the reputation and trustworthiness of an iGaming operator, as they demonstrate compliance with the laws and regulations of a specific jurisdiction. Players may have more confidence in operators in possession of such certification.
Offshore
An offshore iGaming licence is obtained from a regulatory authority located in a different country, often one with favourable tax and regulatory conditions. These licences are typically used by operators who wish to offer their services to customers in various countries or internationally. Offshore licences may offer more flexibility and lower taxes compared to local licences.
Operators can target a broader international audience, including customers from multiple countries. They are not limited to serving residents of the licensing jurisdiction and can often operate from anywhere.
Offshore licences may also offer more lenient regulatory requirements, making them attractive to operators seeking a flexible regulatory environment. However, they still need to adhere to the regulations of the jurisdiction where they are licensed and any additional requirements imposed by the countries they operate in.
In addition, offshore licences are often associated with lower taxes and fees, making them cost-effective for operators. However, the specific tax benefits can vary depending on the jurisdiction.
Sometimes, lower regulatory standards may apply, leading to concerns about the credibility and trustworthiness of operators. However, many reputable offshore jurisdictions maintain robust regulatory frameworks.
Which to choose
It's essential for iGaming operators to carefully consider their target markets, compliance requirements, and business goals when choosing between local and offshore licences. Each option has its advantages and disadvantages, and the choice should align with the operator's specific business strategy and risk tolerance. Additionally, regulatory landscapes can change over time, so operators should stay informed about the latest developments in the jurisdictions they operate in.
Popular choices and why
When embarking on the journey to establish an online gambling business, one of the pivotal decisions operators face is selecting the right gaming licence. This choice can significantly impact the operation's reputation, profitability, and market access. In this article, we'll delve into some popular choices among gaming licences and the compelling reasons behind their selection from an operator's perspective.
The UK Gambling Commission licence
The UK Gambling Commission (UKGC) licence is often seen as a gold standard in the iGaming industry. Operating in one of the world's largest gambling markets, the UKGC aims to ensure fairness, transparency, and player protection. Operators choosing this licence demonstrate a commitment to upholding the highest ethical standards.
Why it's popular:
1. Market access: Holding a UKGC licence grants access to the lucrative UK market, with its discerning players and high revenue potential.
2. Player trust: The UKGC's stringent regulations inspire trust among players, who often seek out licensed operators.
3. Operational credibility: It signifies a commitment to responsible gaming and ethical business practices, which can attract more discerning players.
Curaçao eGaming License
Curaçao, a Caribbean island, has emerged as a favoured destination for online gambling operators, especially newcomers. The Curaçao eGaming licence offers a streamlined application process and affordability. However, it's worth mentioning that Curaçao is currently undergoing regulatory revisions, which may impact the licensing process and requirements. Operators should stay informed about these changes to make informed decisions.
Why it's popular:
1. Affordability: Obtaining a Curaçao licence is relatively cost-effective compared to some other jurisdictions.
2. Quick process: Operators can acquire the licence in as little as six weeks, making it ideal for startups looking to launch quickly.
3. Versatility: The licence covers a wide range of online gambling activities, reducing the need for multiple licences.
Malta Gaming Authority licence
Malta, situated in the Mediterranean, has earned its reputation as the hub of European iGaming. The Malta Gaming Authority (MGA) licence is renowned for its credibility and rigorous regulatory framework.
Why it's popular:
1. EU market access: Holding an MGA licence provides access to the European market, where online gambling is thriving.
2. Versatility: MGA offers different classes of licences, allowing operators to choose the one that suits their specific gaming activities.
3. Player protection: It showcases a commitment to player safety, which resonates with responsible gamblers.
Kahnawake Gaming Commission licence
Located in Canada, the Kahnawake Gaming Commission (KGC) licence has gained popularity for its credibility and cost-effectiveness. It offers a competitive edge in a highly competitive industry.
Why it's popular:
1. Competitive advantage: The KGC's low financial burden, with 0% gaming tax, allows operators to allocate more resources to growth and innovation.
2. Strong reputation: The KGC's commitment to fair and transparent gaming builds trust among players.
3. Flexibility: The licence covers a broad spectrum of gambling activities, making it suitable for diverse operators.
Isle of Man gaming licence
The Isle of Man, a British Crown Dependency, is known for its business-friendly environment. The Isle of Man Gaming Supervision Commission offers licences to operators with various options.
Why it's popular:
1. Low taxation: With low gaming tax rates, operators can maximise their profits and invest in enhancing their services.
2. Government support: The government's focus on supporting the private sector aligns with the interests of gaming operators.
3. Reputation: The Isle of Man licence signifies regulatory stability and a commitment to compliance.
Each licence comes with its unique advantages, and operators must carefully consider their goals, target markets, and compliance priorities when making this critical choice. While Curaçao remains a popular choice, it's important to stay updated on regulatory changes in this evolving jurisdiction. Ultimately, it's not just about obtaining a licence; it's about building a reputable and responsible iGaming business that can thrive in a competitive industry.
Curaçao will undergo changes
On 22 June, 2023, during the NEXT iGaming conference in Malta, Curaçao's Minister of Finance Javier Silvania held a speech, announcing a series of regulatory changes in the way his country will issue iGaming licences moving forward. This is in response to rather "troubling corporate behaviour" that begs "immediate action", in his own words, of which he was made increasingly aware in the months prior.
This raised immediate alarms among operators and business owners alike as to what the changes will be and how they will affect business operations. Of course, the rather hectic practice has been going on for years and legislative measures were expected to be put in place at some point. In the summer of 2022, Curaçao first announced its intention to abolish the current system of master and sub-licences, hinting of things to come.
What are the new changes
Until recently, government-licensed businesses held the right to offer sub-licenses to other brands under their own terms, bypassing national law. This allowed the easy spreading of licences, inviting international attention in an unrestrainable way. The new legislation National Ordinance on Games of Chance under Curaçao Gaming Authority (LOK) is still being drafted. However, effective 1 September, 2023, regulatory bodies will issue new licences with enhanced obligations.
Direct licence issuing
As of 1 September, Curaçao will start issuing direct licences to gambling operators, with the intention of holding them accountable to internationally recognised standards. New licence holders will not be allowed to issue sub-licenses.
Curaçao sub-licences will no longer be renewed
This means if your company has one, it won't remain valid. Those who wish to continue operating under the new framework will have a 3 month transition period to apply for a licence under the LOK. Master licence holders are supposedly assured a smooth transition, as long as they comply with the new legislation. Moreover, they will receive a licence extension of up to 1 year until the new gambling law is fully enrolled.
B2B & B2C
Curaçao eGaming licences are going to be divided into two types: B2B and B2C.
B2B licences are granted to companies that provide gaming services to other companies. Main advantages of holding such a licence include:
Lower tax rates;
Quick application procedures;
Low operating expenses;
Access to a higher variety of payment options;
No requirement for physical presence in Curaçao.
Obligations:
Must be registered in Curacao or have a representative office there;
Well-defined business plan & financial projections;
Must have a valid operating agreement with its customers;
Strong anti-money laundering and responsible gaming policies must be put in place;
Secure and dependable IT infrastructure.
B2C licences are issued to companies that provide gaming services to players. The advantages of this licence can be summed up to:
Lower tax rates;
Quick application procedures;
Access to a higher variety of payment options;
Low operating expenses;
No restrictions on the types of games that can be provided;
No need for a local partnership or sponsorship.
Obligations:
Must be registered in Curacao or have a representative office there;
Well-defined business plan & financial projections;
Must have a valid operating agreement with its customers;
Strong anti-money laundering and responsible gaming policies must be put in place;
Secure and dependable IT infrastructure;
Physical presence for the company in Curaçao.
Focus on online gambling & gaming
While LOK is to introduce provisions applicable to all games of chance, the government expressed that their focus in these drafts is going to be the online environment. Particularities remain to be clearly defined.
Costs
Obtaining the new Curaçao licence means companies are reported to have to pay around a 5,000 USD application fee and a yearly licence fee of 15,000 USD. Furthermore, they will also need to appoint key employees to oversee anti-money laundering activities and responsible gambling policies.
Transparency and security
Companies seeking licences will need to provide clear transparent information about their ownership structure. The upcoming legislation will establish a mandatory system of regular audits and compliance checks for all licensees. Oversight will be implemented to monitor the financial transactions and operations, as well as strict responsible gaming guidelines on operators to prevent underage gambling and address issues related to gambling addiction.
Emerging alternative licencing choices
PAGCOR
PAGCOR is a 100% government-owned and controlled corporation under the Office of the President of the Republic of the Philippines. The state-owned gaming firm was created during the Martial Law years by virtue of a Presidential Decree (PD) 1067-A issued by then President Ferdinand Marcos in response to calls for the Philippine government to put a stop to the growing proliferation of illegal casino operations in various parts of the country.
The law creating PAGCOR was later amended and consolidated under PD 1869 otherwise known as the PAGCOR Charter.
Under its Charter, PAGCOR was given a three-pronged mandate:
Regulate, operate, authorise and licence games of chance, games of cards and games of numbers, particularly casino gaming in the Philippines;
Generate revenues for the Philippine government's socio-civic and national development programs;
Help promote the Philippine tourism industry.
In June 2007, Republic Act No. 9487 was passed by the Philippine Congress, extending the corporate life of the state-run gaming firm by 25 years, renewable for another 25 years, and prescribing the following amendments to the PAGCOR Charter:
PAGCOR can enter into agreements, including joint venture, with any person, firm, association or corporation;
Requirement to obtain consent of the local government authority that has territorial jurisdiction over the area chosen as site for any of PAGCOR's operations;
Exclusion of jai-alai from PAGCOR operations;
Delimitation of regulatory authority and power over gaming activities covered by other existing franchises, regulatory bodies or special laws.
More on the new framework issued by PAGCOR in 2023: https://www.philstar.com/business/2023/08/01/2285229/pagcor-sets-new-rules-internet-gaming-operations
Licence framework: https://www.pagcor.ph/regulatory/pdf/offshore/Internet-Gaming-Licensing-Regulations.pdf
Licence requirements: https://www.pagcor.ph/regulatory/pdf/offshore/Internet-Gaming-License-Requirements-New-Application.pdf
Anjouan
Anjouan, one of the three Autonomous Islands of the Union of the Comoros, is a sovereign island nation situated in the Indian Ocean. Renowned for its favourable regulatory environment and attractive tax regime, Anjouan has emerged as a popular jurisdiction for businesses looking to establish an offshore presence. Whether you're an entrepreneur, investor, or a company seeking strategic advantages, Anjouan offers a range of opportunities to thrive in a dynamic global marketplace.
Established in 2001, the Anjouan Offshore Finance Authority (AOFA) proudly serves as the primary regulatory authority for the Financial Sector in Anjouan, Comoros. With an unwavering commitment to maintaining the highest standards of integrity and transparency, AOFA diligently upholds its regulatory powers and mandate derived from the Comoros's Constitution of 2001.
Anjouan is strategically located at the northern end of the Mozambique Channel in the Indian Ocean. As part of the Union of the Comoros, an independent country comprised of three islands in South-Eastern Africa, Anjouan benefits from its association with a stable political environment and a growing economy. The capital and largest city of the Comoros is Moroni, serving as a gateway to this vibrant region.
Online betting and gaming licences are issued only to Anjouan companies, but allow a company to engage in as many different kinds of online gambling promotions and under as many different brand names or web addresses as desired. Local nominee directors are acceptable if required. A fixed fee per year is charged. The Server may be located anywhere in the world, and profits may be cleared through any bank.
Betting and gaming law
The Betting and Gaming Act 2005 was passed to legalise and regulate computer internet gaming, horse or greyhound betting and sports book betting, Casino, lottery and bingo online gaming, to establish a Gaming Board, and to provide for related or incidental matters.
Formation
The formation of an Online betting or gaming company has to be made on the application form as stipulated in the act and the necessary KYC and due diligence documents as below to the Anjouan Corporate Services Ltd and Gaming Board of Anjouan. The Gaming Board of Anjouan will then assess the application of the Directors and shareholders before granting the permission for the licence.
KYC and due diligence
Please submit the following documents for each of the beneficial owner, director, manager, authorised signatory, shareholder/member of the Entity or agent under power of attorney.
(a) For individuals
A certified copy of passport or current driving licence or national identity card showing the name, date and place of birth, nationality, signature of holder and data of issue/expiry. The document must be certified by a banker, lawyer or actuary or notary or accountant holding a recognized professional qualification.
Proof of residential address. Acceptable evidence includes an original utility bill, bank or credit card statement.
Original bank reference.
Certificate of Morality (Affidavit confirming that the individuals have no criminal track record).
(b) For corporate / partnerships
Certificate of incorporation or registration and the memorandum and articles of association or constitution or deed of partnership or Act de Soci as the case may be. The document has to be certified by a banker, lawyer or actuary or notary or accountant holding a recognized professional qualification.
Original bank reference.
Link to acts & documents: https://anjouanoffshorefinanceauthority.org/acts-and-documents/
More info on Anjouan: https://www.fintecharbor.com/anjouan-gambling-license-cost-requirements-process-and-benefits/
Antigua
Antigua and Barbuda is a well-known jurisdiction with a good track record and the legislation providing an enabling environment for online business.
The Division of Gaming is the regulatory body under the Financial Services Regulatory Commission (FSRC) responsible for the oversight of all aspects of the Offshore Gaming industry in the jurisdiction of Antigua and Barbuda. Antigua and Barbuda was one of the first jurisdictions to licence interactive gaming and wagering companies in 1994. The internet gaming companies are classified as "Financial Institutions" and are subject to all the Anti-Money Laundering (AML) and Caribbean Financial Action Task Force (CFATF) requirements of the jurisdiction. The regulatory framework for these companies has been provided in the International Business Corporations (IBC) Act and the Interactive Gaming and Interactive Wagering Regulations (IGIWR).Today, FSRC, Division of Gaming continues to be home to a significant portion of the industry and some of the largest i-gaming companies due to our pursuit of being a tier one regulatory jurisdiction.
Antigua and Barbuda have been very proactive in regulating offshore gaming through its IGIWR that enforces corporate probity and international best practices. The Division of Gaming is committed to ensuring that Antigua and Barbuda is internationally regarded as a Tier 1 jurisdiction of choice, and its regulations and regulatory enforcement remain first rate. The jurisdiction's regulatory regime comprises a three pronged focus on "Money Laundering Prevention", "Player Protection" and "Industry Enhancement". All gaming activities within the State are subject to the Money Laundering Prevention Act (MLPA) and the Prevention of Terrorism Act (PTA, 2001).
In an effort to ensure the industry remains in conformity with the international best practices we amended the IGIWR in May 2001, to have our gaming companies establish clear internal procedures regarding "Know Your Customer". In addition, all gaming companies are required to have their accounts audited by external auditors who also have to certify their solvency, safety and soundness, player protection and compliance with AML/CFT regime in Antigua and Barbuda.
Advantages of jurisdiction and peculiarities of issued licences
Antigua and Barbuda is one of the first jurisdictions dealing with the issues of regulating offshore gambling (as far back as the mid-90's). There are various benefits for gambling operators:
Tax exemption for local companies;
Ability to host servers out of the jurisdiction on the condition that the primary server is hosted on its territory;
Opportunity for company's owners and staff to stay outside the Islands and represent themselves through a nominal directorate;
The inclusion of jurisdiction in the UK "white list" ‒ that means it is possible to advertise a business in the UK and attract players from there;
Availability of international agreements with other offshore zones (for example, with Kahnawake).
There are several types of licences on the Islands:
Gaming License applies to online casino registered in Antigua and Barbuda – 100,000 USD;
Wagering Licence applies to sports betting – 75,000 USD;
Key Person Licences for the persons managing business;
For the licensed companies, a non-refundable contribution of 10,000 USD and an application fee of 15,000 USD are provided for when applying for a licence. The annual fee payable to the State is 60,000 USD for an online casino and 35,000 USD for a betting provider.
Licence application: http://www.antiguagaming.gov.ag/licensingApplication.asp
Predictions
For a long time, Curacao was the most popular licensing jurisdiction for online gaming operators. It appealed to companies due to its favourable tax structure, simple licensing procedure, and affordable fees. Changes to the regime, however, have resulted in more administrative work for the operators and worries about how the new system works. Operators are now seeking alternate jurisdictions that provide a more dependable and respectable licensing option as a result. The Anjouan online gaming licence is one such new option that is quickly gaining favour for a number of reasons.
Anjouan, as well as Pagcor, have emerged as a viable destination for online gambling businesses looking for a trustworthy and respectable alternative to the Curacao gaming licence. A variety of appealing benefits make the Anjouan and Pagcor online gambling licences a preferable option for operators looking for a reliable and affordable solution.
Both Anjouan and Pagcor have a quick licensing procedure that makes it easy for operators to get their gaming licence, just like Curacao does. The time and resources needed to enter the iGaming market are reduced by this quick and simple application process, making it a desirable choice for both new and experienced operators.
Only trustworthy and law-abiding operators are given these gaming licences, thus thorough background checks and vetting procedures are applied to all applicants. Due to its dedication to authenticity, Anjouan/Pagcor are regarded as a reliable jurisdiction for iGaming activities by both players and service providers.
As the iGaming industry continues to expand, the quest for a reputable and affordable licensing solution has intensified. With their streamlined procedures, compliance, credibility, and cost-effectiveness, Anjouan and Pagcor have established themselves as a strong rival to the Curacao gaming licence. Any of the two can be a great solution for operators looking for a jurisdiction with a well-balanced regulatory structure, international recognition, and a dedication to player protection in the constantly changing field of online gambling licensing. The two are poised to become significant participants in the iGaming sector and a top option for operators all over the world as a result of their rising popularity.
Sources:
https://www.linkedin.com/pulse/introducing-new-2023-curacao-gaming-license-george-sarris
https://money-gate.com/new-updates-on-curacao-gaming-license-by-the-curacao-gaming-authority/
https://crustlab.com/blog/curacao-gaming-license-casino-regulations/
https://igamingbrazil.com/en/legislation-en/2023/07/17/curacao-license-standard-to-undergo-changes-in-september/
https://igamingnext.com/news/tag/javier-silvania/
https://fastoffshore.com/2023/02/which-is-the-best-online-gambling-license-for-2023/
https://slotegrator.pro/analytical_articles/online-casino-licensing.html
https://www.thegamblest.com/top-online-gambling-licenses-ultimate-guide-for-operators/
https://spcasinos.com/casino-licences/
https://sigma.world/play/blog/online-casino-licenses/
https://fastoffshore.com/what-we-do/gaming-license/
https://slotegrator.pro/services/license_online_casinos.html
https://www.softswiss.com/licensing/
https://crustlab.com/blog/how-to-secure-a-gaming-license/
https://www.gbofintech.com/how-to-get-an-online-gaming-license/
https://www.business2community.com/gambling/online-gambling-licenses
https://www.onlinebettingsites.com/comparing-regulated-unregulated-markets/
https://euroweeklynews.com/2018/09/18/regulated-online-casinos-vs-unregulated-markets/
https://vegaspublicity.com/16405/differences-between-regulated-and-unregulated-online-and-mobile-casinos.html
https://www.casinodirectory.com/articles/regulated-vs-unregulated-online-gambling-markets-9201/
https://www.daeninckx.net/the-advantages-of-using-regulated-online-casinos-over-unregulated-ones/
https://env.media/international-gambling-licenses-current-scope-and-future-outlook/