How to Launch an Online Casino in LatAm
A guide for those interested in opening up an online casino business in countries of the Latin American region. It provides research and key pointers for success in the endeavour.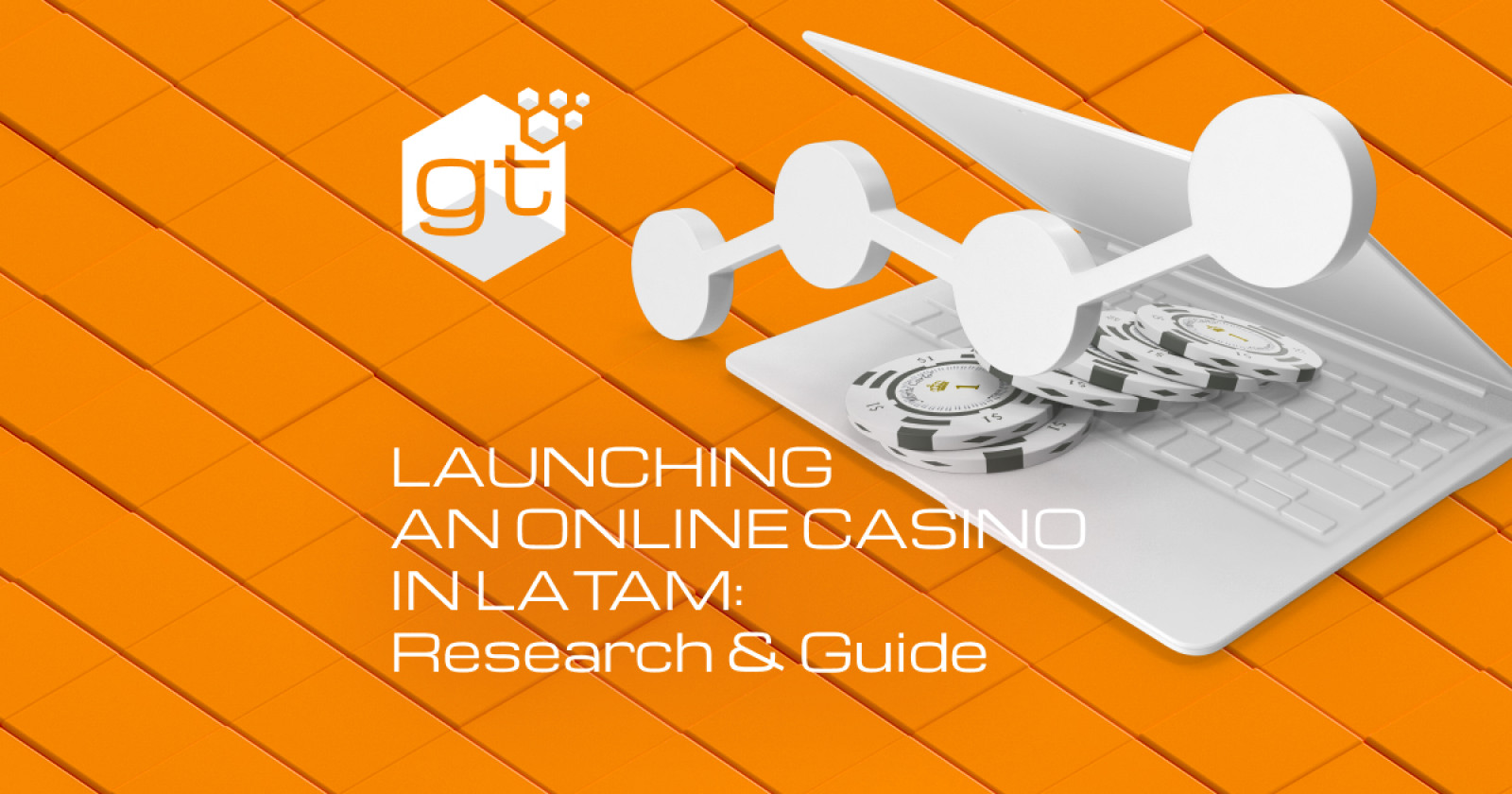 LatAm holds substantial potential for iGaming operators, with 26 territories serving a population of over 600 million people. Undoubtedly, starting an online casino business in these countries has become one of the most popular trends in the industry recently.
So what might this look like? For your entry into this market to be both successful and profitable, it's essential to understand each country's potential, challenges and, essentially, legislation.
If you're seeking new opportunities and wish to gain comprehensive insights into establishing an online casino in Latin America, this article provides a comprehensive guide for businesses interested in this region. We will delve into fundamental topics, including:
Market research, legal requirements, and licensing processes specific to LatAm.
Business planning, marketing strategies, and responsible gambling measures tailored for the LatAm audience.
Technology and software aspects, including mobile optimization and gaming platforms.
Game selection, payment processing, customer support, and operational considerations.
Marketing and promotion strategies, including local approaches and affiliate marketing.
Real-world case studies and success stories of LatAm online casinos.
Moreover, this comprehensive guide will empower you with the knowledge and strategies required for a successful launch and operation of an online casino in the dynamic and promising LatAm market. Let's get started.
Key Factors Driving LatAm's Online Casino Industry
Online gambling will continue to grow in LatAm, with a surge in new gamers expected by 2025. LatAm holds great potential as an iGaming hub, with Brazil, Mexico, and Colombia as the top key players.
The tech-savvy, young population in Latin America presents significant opportunities for the iGaming industry. However, certain factors shape its landscape. Let's explore the key drivers and challenges in the region's online casino industry.
1. Regulatory challenges
Unclear and underdeveloped regulatory frameworks pose challenges in LatAm. In this scenario, modernised regulations are essential to unlock the region's iGaming potential, fostering a secure and thriving industry.
2. Competition
Operators need to be aware of existing competition and licensing limitations. Many jurisdictions restrict the number of licences available, emphasising the importance of strategic planning and market analysis.
Evaluating market size, growth factors, and enabling conditions is also essential for operators navigating LatAm. Economic challenges may impact growth opportunities, necessitating a thorough understanding of the market landscape.
3. Paperwork and licensing
Acquiring necessary licences and ensuring compliance with documentation requirements is an important step for those who are entering the LatAm iGaming market. Have in mind that competitive and time-consuming application processes require careful attention to legal and administrative details.
4. IT infrastructure
As we know, high-performance IT infrastructure is vital for a seamless gaming experience. Considerations such as data centre location, regulatory compliance, and redundancy options play a crucial role in establishing a reliable and efficient gaming platform and needs to be taken into consideration as well.
5. Market timing
Staying informed about changing regulations and market developments is essential, especially in rapidly evolving regions in LatAm. Operators need to adapt to the dynamic landscape to capitalise on emerging opportunities and mitigate potential risks. In this regard, it is fundamental to pursue the right market timing and stay up to date with the news of those countries.
Potential of the LatAm market
The LatAm online casino industry holds immense promise, driven by factors such as smartphone penetration, regulatory reforms, and a growing player base. Below, we will take a look into what each of the most promising countries can offer.
Brazil
Brazil stands out as the largest market in the region. The country is a leader in smartphone adoption, creating a favourable environment for mobile iGaming. The widespread passion for smartphones enhances the accessibility and popularity of online casino games.
The widespread adoption of smartphones in Brazil, coupled with the population's enthusiastic embrace of digital engagement, positions the nation as a prime iGaming market ripe for exploitation by iGaming operators. Moreover, the implementation of Bill 442/91 aims to legitimise and regulate online gambling within the country, with the goal of safeguarding players and boosting state revenues.
Mexico
With its 127 million inhabitants, Mexico represents another potential leader in the Latin American iGaming industry. Despite the ongoing evolution of online gambling regulations, licensed foreign online gambling sites are gaining traction, providing opportunities for operators.
The country boasts a relatively established gambling market, having legalised select forms of online gambling as early as 2004. However, the legal status of online gambling in Mexico remains somewhat ambiguous, awaiting further legislation. Currently, Mexicans can engage with licensed foreign online gambling platforms that adhere to Mexican regulations.
Colombia
Colombia, which implemented its eGaming Act in 2016, stands out as one of the most mature iGaming markets in the region. Now, the country takes the lead as a mature iGaming market, boasting comprehensive regulations since 2016. Recent expansions in online gaming offerings reinforce its position, providing a stable market for industry players.
This region has made significant strides in expanding its iGaming industry, recently legalising online bingo, instant games, and digital scratch cards. Moreover, the entry of global operators such as Betfair has injected new vitality into Colombia's iGaming sector.
Operators who navigate this dynamic landscape stand to benefit from the region's growth potential. With the right strategy and infrastructure, LatAm could become a pivotal hub for the iGaming industry in the years to come.
Let's continue by looking at the market analysis, regional trends and growth, legal and regulatory, competition, key players and more.
Market Research
Market analysis of LatAm
As governments in various LatAm countries continue to embrace and regulate online gambling, the industry is gaining legitimacy.
The expanding middle class, increased internet accessibility, and a cultural acceptance of gaming contribute to a growing customer base. Mobile gaming is on the rise, making it more accessible to a broader audience.
Furthermore, international gaming companies are actively investing in the region, forming partnerships, and expanding their presence. While challenges like regulatory complexities and responsible gambling concerns persist, the overall market analysis suggests a promising future for online casinos in LatAm. Let's talk about the details.
Regional trends and growth
Latin America has been experiencing a significant digital transformation, with increased internet penetration and smartphone adoption. This shift has influenced various sectors, including finance, e-commerce, and entertainment, impacting the way people consume services, including online gaming and gambling. This trend is particularly significant among younger demographics.
📜 Several LatAm countries have been exploring or implementing regulatory frameworks for online gambling, including online casinos. Clearer regulations contribute to the growth of legal and regulated online casino activities.
📱 Mobile gaming has become dominant in the region. Responsive and mobile-friendly platforms are crucial for reaching a broad audience, as users prefer the convenience of gaming on smartphones. Advancements in technology, such as improved graphics, live dealer games, and virtual reality experiences, contribute to the overall appeal.
🤝 Cross-border partnerships and collaborations between international online casino operators and local entities have been observed. These partnerships can lead to the introduction of diverse gaming options and enhanced user experiences.
📈 The emergence of a growing middle class in some LatAm countries has increased disposable incomes. This contributes to a potentially larger customer base for online casinos, as people seek entertainment options.
⚽ Integration with sports betting has been a notable trend. Online casinos often incorporate sports betting features, capitalising on the widespread passion for sports in the region.
💳 Online casinos are adapting to local payment preferences by offering a variety of payment methods, including digital wallets, prepaid cards, and local banking options. This diversification facilitates smoother transactions for players.
🥁 Those that understand and customise their offerings to match local cultural preferences tend to gain traction. This can include themed games, promotions tied to cultural events, and language customization.
The takeaway is to stay updated on the latest developments and regulations in the region, as the online casino industry is dynamic, and trends can evolve rapidly. Consulting with market reports and industry experts can provide more detailed and current insights.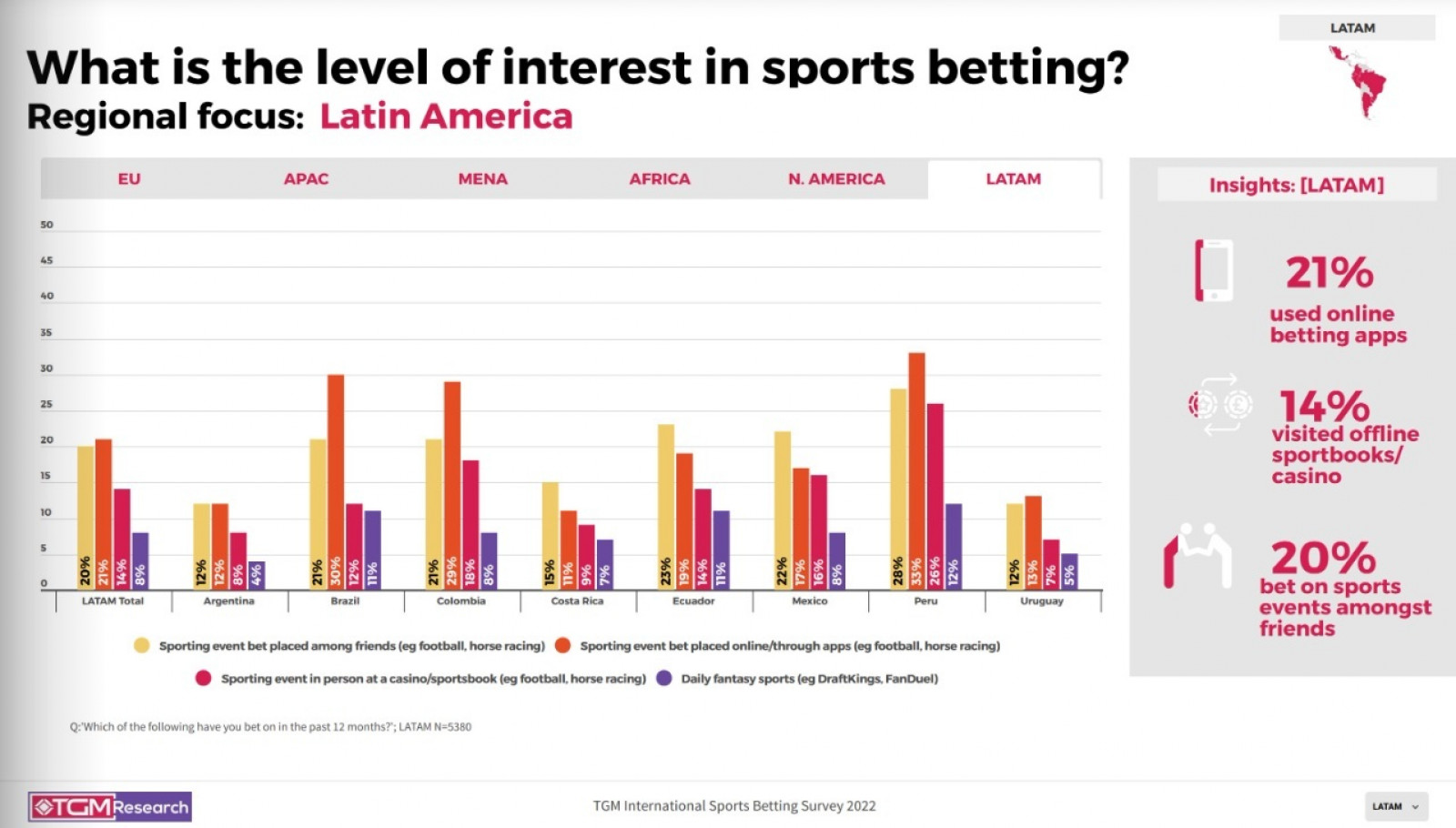 The level of interest in sports betting in LATAM. Source: https://tgmresearch.com/gambling-sports-betting-market-research-in-brazil.html
Mobile gaming
The mobile gaming sector presents a significant growth opportunity. It is projected that by 2025, Latin America will comprise nearly 10% of the global mobile gaming user base.
In Latin America, over 70% of the population has a smartphone. Projections indicate that smartphone penetration is anticipated to rise to 83% by 2025, according to Mordor Intelligence.
Crypto
Many countries in Latin America have experienced high levels of inflation, making cryptocurrencies an attractive option to replace "traditional currencies". The cryptocurrency market in Latin America ranks 7th in the world by volume. The anticipated growth in the number of crypto players in the coming years makes the casino and betting operators expand offerings that can meet the needs of the rising "crypto" audience.
Esports
An important and rapidly growing segment in the Latin American gambling industry is Esports. Numerous players and fans are engaged in games like League of Legends and Dota 2. With the increasing number of players interested in Esports, there is a rising demand for bets and tournaments in this field.
Latin American countries host various professional esports leagues and tournaments. These competitions attract top talent from the region and even international players.
According to Esports Charts, the 2022 World Championship in League of Legends emerged as the most-watched tournament among Spanish and Latin American audiences in October. The semi-final clash between JD Gaming and T1 got a peak viewership of 292.6K on Spanish-language broadcasts.
Participants from Latin America came in second place in FFL Latinoamerica Closing 2022. During the main event's third round, Spanish-language broadcasts saw a peak viewership of 230.2K. Mexico's Ignis Esports and Argentina's Naguara Team secured victory in the qualifiers.
The International 2022, the main Dota 2 tournament, attracted 112K Spanish-speaking peak viewers, marking the third-highest viewership for any tournament in the discipline on Spanish-language broadcasts. The peak audience tuned in for the match between the Peruvian team Beastcoast and the Chinese team PSG.LGD.
According to statista.com, between 2017 and 2022, there was a notable rise in the count of active eSports competition players across Latin America. Brazil, in particular, led the way with nearly 1,500 professional eSports players in 2022. Following closely in the rankings that year were Argentina and Mexico, with 371 and 368 competitive gamers, respectively.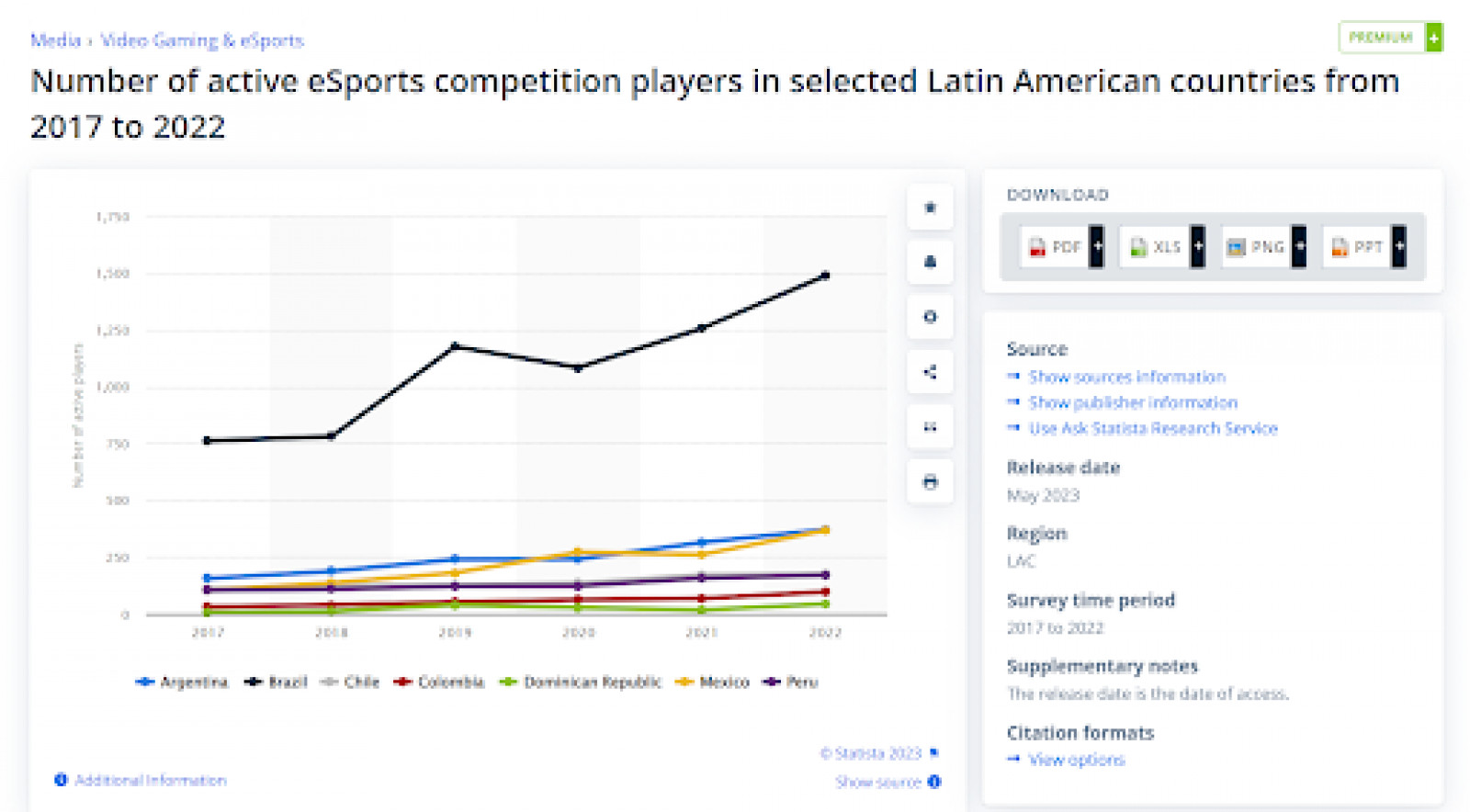 Number of active eSports competition players in selected Latin American countries from 2017 to 2022. Source: https://www.statista.com/statistics/1340891/esports-player-count-latin-american-countries/
Competition and key players
Based on the survey of TGM research, the most popular betting brand in Latin America is Bet365. Other well known brands across Latin America are 1xBet, Codere, Betway and Betsson.
In Mexico 47.5% of survey participants named Caliente Casino as the most recognized betting platform in the country.
Colombian players identified Betplay as the most widely popular brand, while in Peru, Inkabet is on the first place of brand awareness. In Uruguay, Supermatch takes the lead.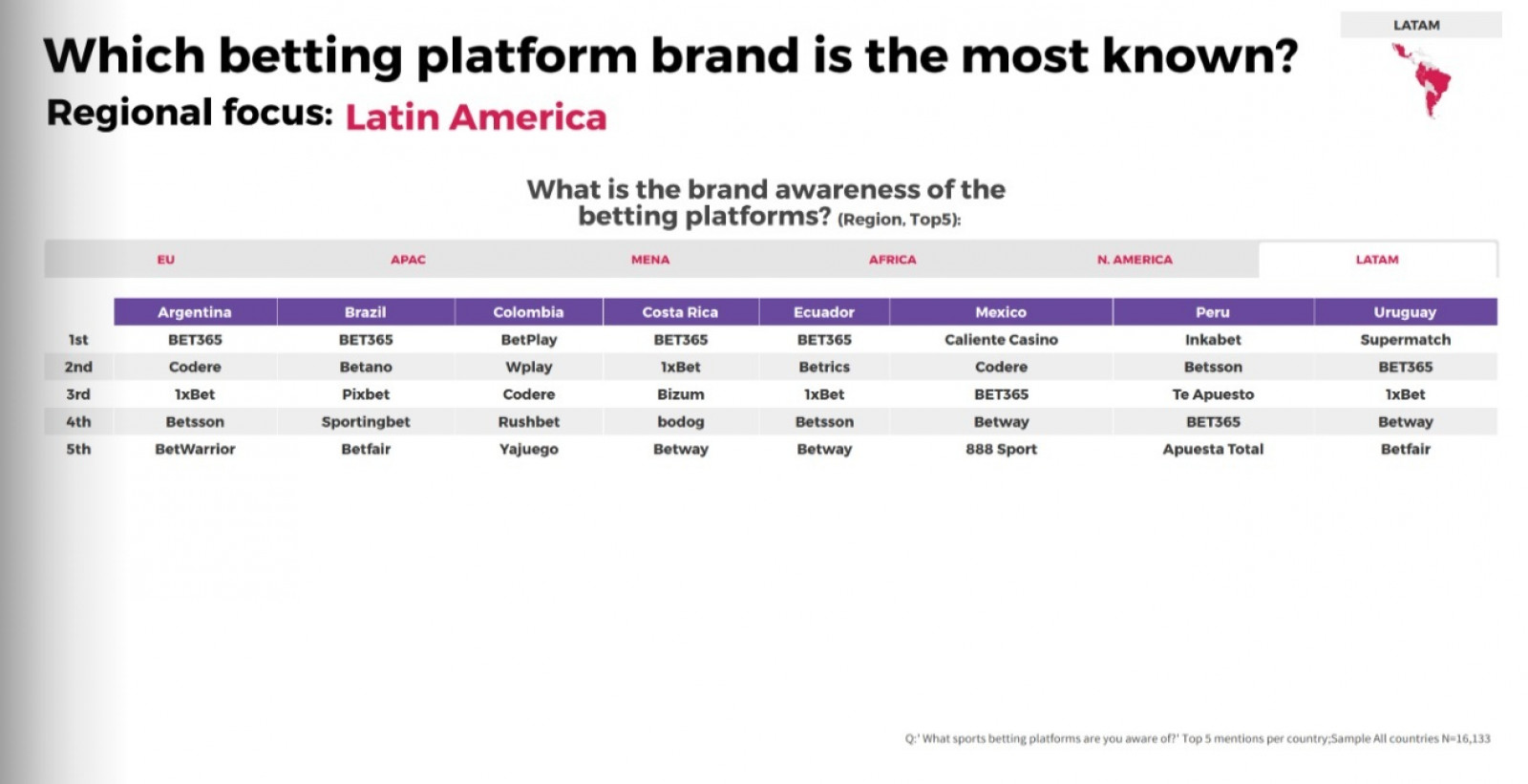 An overview of betting platform brand awareness in LatAm. Source: https://tgmresearch.com/gambling-sports-betting-market-research-in-brazil.html
Top 5 most known brands by countries:
Argentina:
BET365
Codere
1xBet
Betsson
BetWarrior

Brazil:
BET365
Betano
Pixbet
Sportingbet
Betfair

Columbia:
BetPlay
Wplay
Codere
Rushbet
Yajuego

Costa Rica:
BET365
1xBet
Bizum
Bodog
Betway

Ecuador:
BET365
Betrics
1xBet
Betsson
Betway

Mexico:
Caliente Casino
Codere
BET365
Betway
888 Sport

Peru:
Inkabet
Betsson
Te Apuesto
BET365
Apuesta Total

Uruguay:
Supermatch
BET365
1xBet
Betway
Betfair

Caliente.mx
According to SimilarWeb the website receives in average 115 mln visits per month with over 99% of the traffic coming from Mexico. More than 56% of the audience falls in the 18-34 age range and over 62% of visitors come via YouTube. The website has two mobile apps for iOS and Android users. Payment methods supported include Spei, TiditoCash, Visa, MasterCard, PaysafeCard and others.
The success of this company is attributed to its long-standing presence in the market, having entered early into the online gaming sector in Mexico.
BET365
Based on SimilarWeb the website receives in average 180 mil. visitors monthly with 34% of its global traffic coming from Brazil. A majority of the audience, about 52%, falls in the 25-44 age range, around 19% are 18-24 years old. Significant portion of visitors arrive through social media platforms with 60% from YouTube. Facebook, Twitter and WhatsApp have similar ranges, which is around 10%.
The brand is one of the oldest in the gambling market with a well-established reputation, offering both sports and casino games. Its reputation and marketing capabilities have likely played a significant role in propelling it into the top online projects for this market.
Target audience and demographics
The target audience and demographics for iGaming in Latin America can vary depending on the specific country and its socio-economic characteristics. However, there are some general trends and characteristics that can be observed in the region:
Age group:
The majority of iGaming enthusiasts in Latin America tend to be between the ages of 18 and 44. This demographic includes young adults and middle-aged individuals who are tech-savvy and have disposable income. In this age group, Brazil has a 72% participation rate in betting activities, while in Mexico, it stands at 68%. The most dynamic segment within this range in Mexico is the 25-34-year-old demographic, with nearly 80% actively placing bets. The preferred options among players in Latin America are sports events, lottery, and bingo. It is also customary for friends to engage in betting activities together.
Gender:
While there's a notable male majority in the iGaming industry globally, the gender gap is gradually narrowing. More females are becoming interested in online gaming, including casino games and esports.
In Latin America, there is nearly equal participation of both male and female players. As per the 2022 TGM survey, 69% of males and 62% of females surveyed in Brazil participate in betting activities. In Mexico, the figures are 70% for males and 61% for females. In Argentina, 61% of males and 48% of females are involved in betting.
Socio-economic status:
The target audience in Latin America is diverse in terms of socio-economic status. There are players from various income levels, but the middle class, which has been growing in the region, is a significant market segment.
This group often has more disposable income and is more likely to engage in iGaming activities. Additionally, as access to technology and the internet continues to expand across Latin America, there is an increasing presence of players from different socio-economic backgrounds, including those from lower income brackets. Urban areas tend to have higher internet penetration rates and access to smartphones, however, as technology access expands, rural areas are also becoming potential markets.
Regulatory awareness:
Players in Latin America are increasingly conscious of the legal status of online gambling. Operating within a regulated framework can build trust and attract a more discerning audience.
Licensing and Legal Requirements
Understanding the legal framework
Before diving into the process of launching an online casino in Latin America, it's crucial to have a comprehensive understanding of the legal landscape. Gambling laws vary significantly across different countries in the region, and staying abreast of these regulations is paramount to ensure compliance and avoid legal pitfalls.
In many LatAm countries, gambling laws are a combination of federal and state regulations, with some nations adopting a more liberal stance while others maintain strict control. It's essential to identify the specific legal nuances and restrictions pertaining to online casinos in the target country or countries.
Licensing authorities and regulations
Identifying the relevant licensing authorities is a fundamental step in launching an online casino in LatAm. These authorities are responsible for overseeing and regulating gambling activities within their jurisdictions. Some countries may have a centralised regulatory body, while others might delegate this responsibility to regional or municipal authorities.
Common regulatory bodies in the region include the National Gaming Commission (CONAJZAR) in Argentina, the Colombian Gambling Regulator (Coljuegos) in Colombia, and the National Service of Gambling and Casinos (SUNAT) in Peru. Familiarising yourself with the specific regulations enforced by these authorities is crucial for a successful and compliant operation.
Licensing process and requirements
Application process
Initiating the licensing process requires a thorough understanding of the application procedures set forth by the relevant regulatory bodies. The application process typically involves submitting detailed documentation, including but not limited to:
Business plan: Provide a comprehensive overview of your online casino business, including financial projections, marketing strategies, and responsible gambling measures.
Technical specifications: Outline the technology and infrastructure of your online casino, ensuring it meets the required standards for security, fairness, and responsible gaming.
Corporate structure: Detail the ownership structure of your company, key personnel, and any relevant partnerships.
Compliance checks: Demonstrate your commitment to compliance with anti-money laundering (AML) and know your customer (KYC) regulations.
Compliance and reporting
Once licensed, ongoing compliance is crucial for the sustainable operation of your online casino. This involves implementing and adhering to responsible gambling practices, ensuring data protection and privacy, and staying abreast of any regulatory updates.
Regular reporting to the licensing authority is often mandatory. This may include financial audits, security assessments, and updates on any changes to the operation. Establishing robust internal processes for continuous compliance monitoring will contribute to the long-term success and legitimacy of your online casino in the Latin American market.
Legal requirements can evolve, so maintaining a proactive approach to staying informed about changes in regulations is vital for a successful and compliant online casino operation in Latin America.
Business plan and strategy
Launching an online casino in Latin America (LatAm) requires a comprehensive business plan and a well-thought-out strategy to navigate the unique challenges and opportunities of this market.
Business model and revenue streams
The primary revenue source for an online casino is through gambling activities. Startups cannot rely on their name to generate income. They must instead do so by implementing a clever business model that takes into account the local target audience.
Here is a table of ideas that can serve as the backbone:
Subscription or membership fees;
Diverse gambling revenues;
Advertising and sponsorships;
Affiliate marketing;
In-Game purchases and virtual goods;
Tournaments and competitions;
VIP memberships and loyalty programs;
Partnerships with local businesses;
Mobile gaming and apps;
Data monetization;
White label solutions;
Cryptocurrency transactions;
Consultancy and training services.
Implementing a subscription-based model where players pay a monthly fee for premium access to exclusive games, promotions, and features can create a steady revenue stream and foster customer loyalty.
Bets, wagers, and the house edge on various casino games are all channels of the obvious revenue line. It can also be enhanced by differentiating the platform by offering a diverse range of games that appeal to the preferences of LatAm players.
Collaboration with local and international brands for advertising and sponsorships is very powerful. Promoting their products or services within the casino platform in exchange for additional revenue. This can be particularly effective if partnered with entertainment or sports events.
Affiliate marketers can drive traffic to the online casino, in exchange for a commission for every player they bring to the platform. This performance-based model can be a cost-effective way to acquire new users.
In-game purchases and virtual goods that enhance the gaming experience are very underrated. Examples include personalised avatars, special game features, or exclusive content that players can purchase within the platform.
Hosting gaming tournaments and competitions is a great excuse to charge an entry fee for the participation, by offering attractive prizes, with a percentage of the entry fees contributing to the casino's revenue. This not only generates income but also fosters community engagement.
VIP memberships and loyalty programs incentivize player retention. Exclusive perks, bonuses, and rewards, that go to high-value players, contribute significantly to the casino's revenue.
Partnering with local businesses, such as hotels, restaurants, or entertainment venues is an opportunity. Joint promotions or packages that combine casino services with other local experiences create additional revenue streams.
Developing mobile gaming applications and monetizing them through app stores expands the reach of the casino to a broader audience and allows for additional revenue through in-app purchases, ads, and premium features.
Player data can be used to identify trends and preferences (while ensuring compliance with privacy regulations). This data can be monetized by offering valuable insights to third parties, such as game developers, advertisers, or researchers.
Other businesses may be looking to enter the online gambling market. Licencing the casino platform to third parties generates revenue through licensing fees and revenue-sharing agreements.
The use of cryptocurrencies for transactions can be leveraged by charging a small fee for cryptocurrency conversions or transactions, providing an alternative payment method.
New entrants in the online gambling industry are often willing to pay for insight.
There is more.
Building a brand
When it comes to to the formation of a new brand, there's a very simple formula to follow:
IDENTITY + CONSISTENCY = GROWTH & SUCCESS
Establish a distinctive brand identity that reflects the casino's values and appeals to the target audience in LatAm. Focus on:
A memorable logo;
An attractive colour scheme;
Brand messaging.
Ensure consistent branding across all communication channels, including the website, social media, and promotional materials.
Consistency builds brand recognition and trust.
Advertising and promotion strategies
Considering the following is highly recommended:
Digital marketing >> Leverage digital channels, including social media, online advertising, and content marketing, to reach a wide audience. Tailor strategies to resonate with LatAm cultural nuances and preferences.
Localised content >> Create content that speaks directly to the local audience, incorporating cultural references and language. Personalise promotions to align with regional festivities, holidays, or events.
Influencer marketing >> Collaborate with local influencers who have a significant following in the LatAm region. Their endorsement can amplify brand visibility and credibility among potential players.
Strategic partnerships >> Form partnerships with other businesses or platforms that align with the casino's image. Cross-promotions and joint campaigns can expand reach and attract a diverse audience.
Promotional events >> Host special events or promotions, such as launch parties, exclusive tournaments, or limited-time offers. These create excitement and urgency, encouraging player participation.
Customer loyalty programs >> Implement loyalty programs with enticing rewards to retain existing players. Encourage repeat business through tailored promotions for loyal customers, fostering brand loyalty.
Effective marketing and promotion involve a blend of online and offline strategies, customised to resonate with the local audience and establish a strong, recognizable brand in the competitive LatAm market.
Responsible gambling measures
This might appear counterintuitive, but applying a public commitment to restrictions and measures to conduct gambling in a responsible manner has two added benefits.
1. It solves legal problems by catering to local and international regulatory bodies who oversee gambling conducts. In short, it keeps the police off your back yard.
2. Enforcing restrictions on people who engage in regular gambling activities has a reverse psychological effect. Doing so, in fact, amplifies their desire.
It's no secret that the entire gambling industry profits into the billions every year. According to Statista, the 2022 gross gaming revenue (GGR) of the gambling industry in the United States alone reached $ 60.42 B.
The model of approach that brings the most successful outcome is, therefore, a good balance between profit and responsibility.
Technology and software
When establishing an online casino, one of the critical aspects to consider is the technology and software you'll use. In a rapidly evolving digital landscape, having the right selection is essential to ensure a seamless, secure, and enjoyable gaming experience for your customers.
Let's see how that works.
Mobile and user-friendly design
Unsurprisingly, mobile accessibility is a key factor in the success of an online casino in LatAm. The majority of users access online casinos through their smartphones and tablets, so it's imperative that your platform focuses on perfecting this aspect. Here are some key milestones:
Responsive web design: Ensure that your website and games adapt to various screen sizes and devices, providing a consistent and engaging experience for users on both desktop and mobile.
Choose colours and concepts inspired from the local environment. This enhances the comfort of your audience by showing them something familiar.
Intuitive navigation: A user-friendly interface with easy navigation is crucial. Players should be able to find their favourite games, make deposits, and withdraw winnings without any hassle.
Fast loading times: LatAm internet speeds can vary, so optimising your website for quick loading times is essential to prevent users from experiencing frustrating delays.
Gaming software and platforms
Selecting the right gaming software and platforms is vital for your online casino's success. Here are some key considerations in this regard:
Game variety
Offer a diverse selection of games, including slots, table games, live dealer games, and more. Partner with reputable game providers to ensure high-quality content.
Licensing and regulation
Ensure that your chosen gaming software and platforms are compliant with the regulatory requirements in LatAm countries where you plan to operate. Obtaining the necessary licences is crucial to operate legally and gain the trust of your players.
Payment integration
Implement a reliable payment processing system that supports popular payment methods in LatAm. This includes credit cards, e-wallets, and local payment solutions.
Machine learning / AI
This technology is especially useful when there is a large sample base. In this case, your audience. It can be utilised in all sorts of ways, such as showing tailored game suggestions, generating home page display content, preferences settings and many others.
It is best to consult with either the software provider(s) or a machine learning developer to unveil the full scope of possibilities.While running an online project, automating processes can be a great way to save time.
Security and fair play
Invest in state-of-the-art security measures to protect your players' personal and financial information. Additionally, employ certified random number generators (RNGs) to guarantee fair play.
Localization
Customise your gaming software and platform to cater to the specific needs of the LatAm audience. This includes offering content in Spanish and Portuguese, as well as providing customer support in local languages.
Cross-platform compatibility
Ensure that your gaming platform is accessible on various operating systems, including Windows, iOS, and Android. Native apps or mobile web apps can enhance the user experience.
Regular updates
Keep your gaming software and platform up to date with the latest features, security patches, and game releases to remain competitive and appealing to your audience.
Choosing the right technology and software is a foundational step toward building a successful and reputable operation. By prioritising mobile accessibility, offering a wide array of games, and ensuring compliance with local regulations, you can create an online casino that absolutely resonates with the locals.
Managed services
Building any business requires the right combination of a great idea, resources and the right talent. Starting a new online casino can happen in one of two ways.
Assemble a team of top industry professionals who possess the technological knowhow and build it yourself.

Outsource the endeavour by finding the best iGaming platform provider to do the job.
Regardless of the chosen method, the important thing to remember is that we live in an interconnected world. Talented people reside everywhere.
Skills and expertise >> Ensure that the team you collaborate with possesses a demonstrated history of success in development, particularly aligning with the specific requirements of your project.
Project management approaches >> Seek out teams that embrace efficient project management methodologies like Agile or Scrum, ensuring the effective and successful execution of projects.
Communication proficiency >> Choose companies and professionals renowned for their exceptional communication skills to guarantee a seamless and collaborative working process.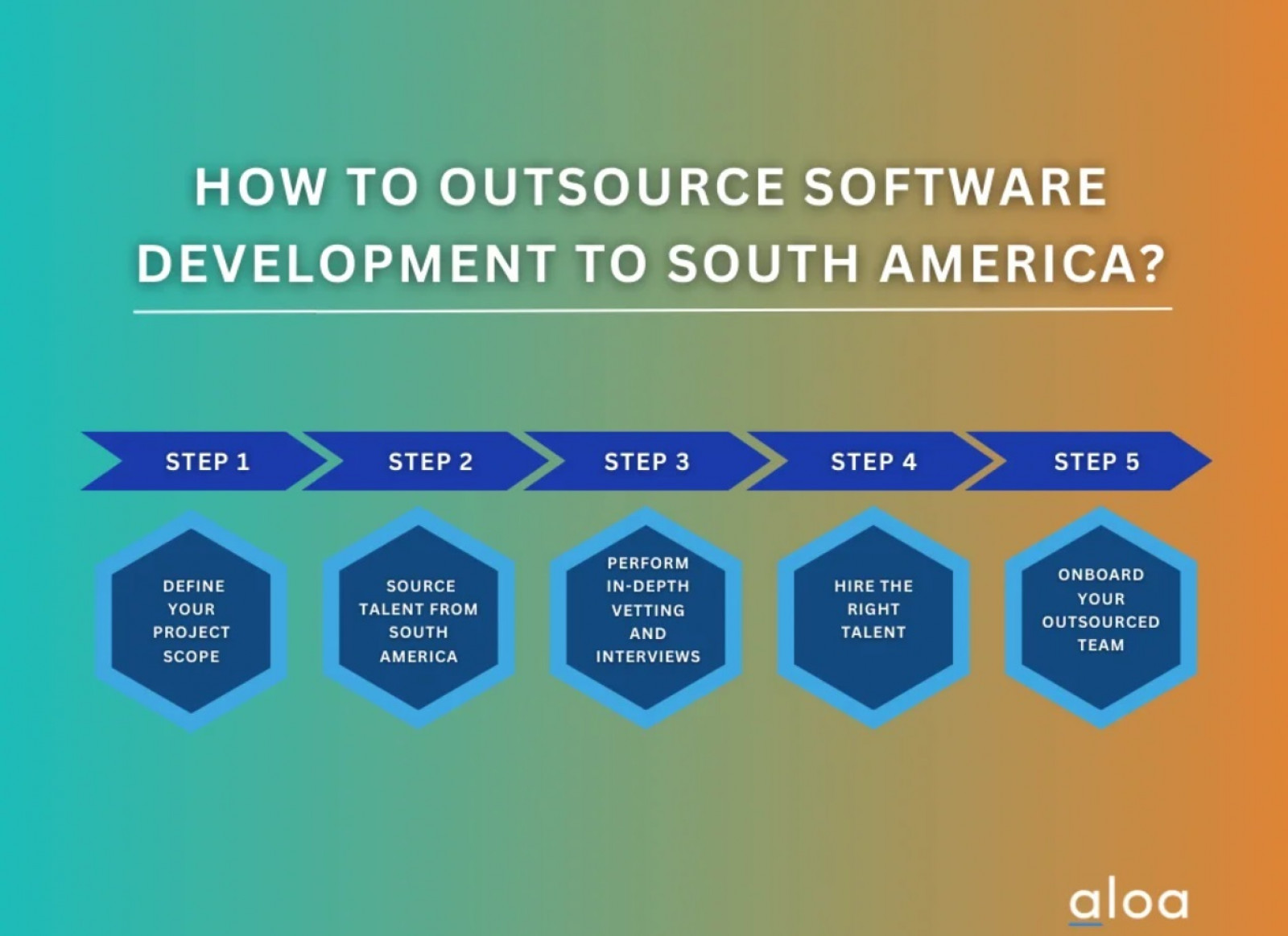 The Process of Outsourcing Software Development to South America. Source: https://aloa.co/blog/software-outsourcing-south-america
Game selection and providers
The gamification process of an online casino is an extremely important contributing factor to its success. Players choose to come to certain online casinos primarily because of their experience interacting with the games found within.
Game categories
Segmentation of the different types of games is usually how online casinos approach their category management. This follows a line of observation which proves that different people enjoy different styles of games. It is also why it's customary, when someone walks into a land-based casino, to be asked what their game of choice is by the person welcoming them.
Common categorisation may carry out as follows:
Slots;
Table games (Poker, Roulette, Blackjack, Craps, Baccarat;
Video games;
Live dealer games;
Progressive jackpots;
Crash games;
Specialty games;
Arcade games;
Dice games;
Virtual sports betting.
Of course, other categories exist or might be created, based upon the design and ideology of the casino. The online space has the added advantage of allowing unlimited creativity.
Choosing game providers
Game providers are distributors of games. They serve the function of delegating a selected choice of titles. That doesn't mean they are responsible for the game's creation. Games are typically created by studios who hold the rights.
It is recommended to inquire about some background information on the chosen game providers, especially putting emphasis on experience and their portfolio. Look for signs of long term stability.
As graphic technology improves, more and more newcomers are entering the market. And it's not necessarily a bad thing. Online casinos essentially act as platforms for them. This is an opportunity for both the casino and the provider to establish a good relationship, as they should.
Game localization for LatAm
Various sources report differently on this. However, according to most, it seems to be the case that slots make the top of the list, with live dealer games such as poker and blackjack as second, and roulette as third respectively.
In Brazil alone, Statista's 2022 report gives the following figures: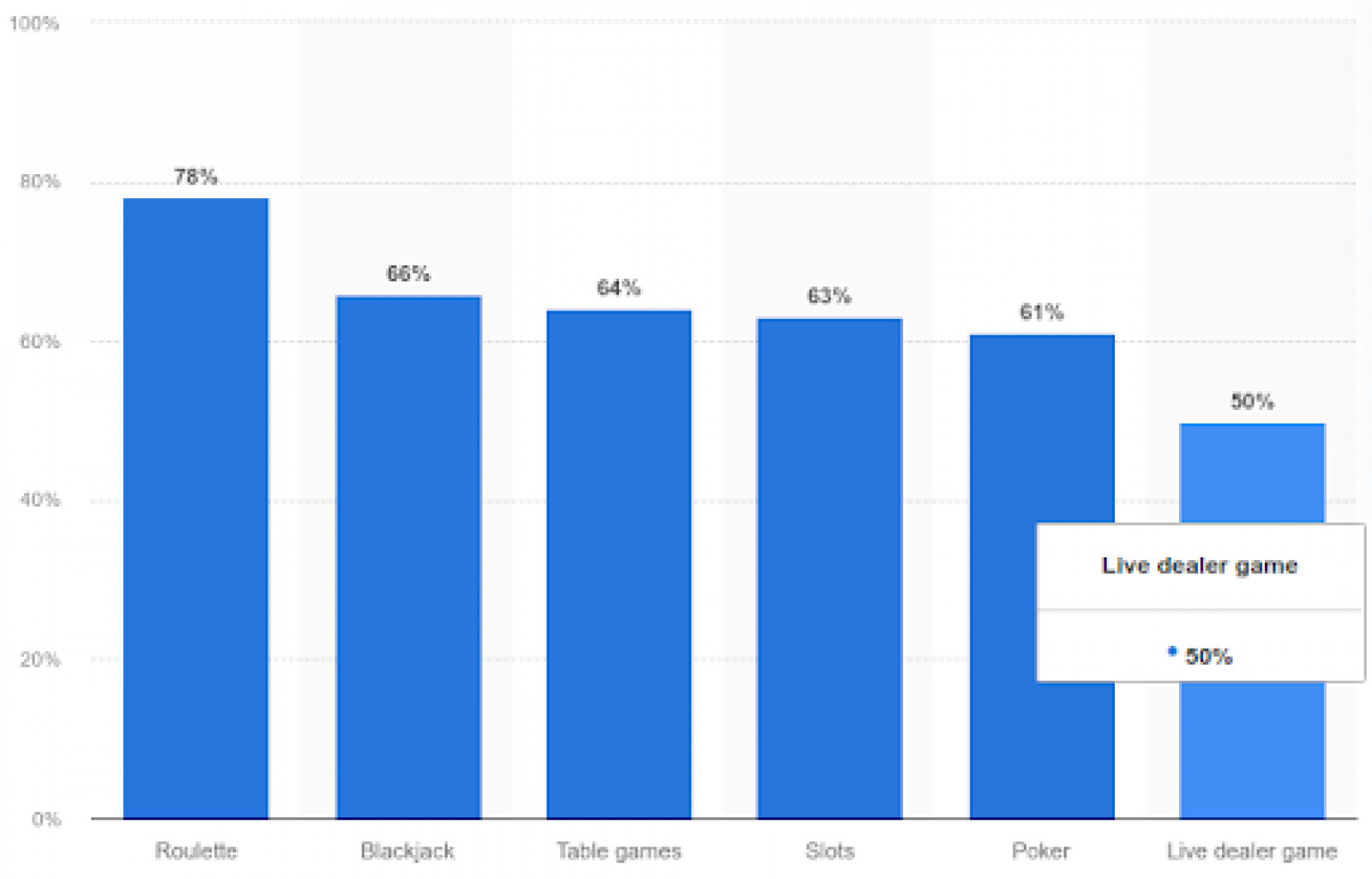 With that in mind, one should not discredit the other categories, as the idea of "having fun" takes many forms. The best practice is to select game providers based on popularity in the specific region where the casino is being launched and choose, through trial and error, games that are popular among players.
Banking and payment processing
Monetary transactions play a crucial part of what keeps an online brand running. It is such an important aspect, in fact, that it can make or break the project altogether. The flow of money is not equal across the world. This creates a necessity to rely on some sort of constant. That constant is banks - either local, national or international ones.
This whole process is commonly known in the iGaming industry as a "payment solution". It is, essentially, software that creates a link between your project and the banking institutions, and it is responsible for handling the transactions that occur. However, this software must overcome numerous technical, compliance and security challenges. Let's break it down.
Payment systems and security technology
Your first order of business is to choose the technology that's going to be the foundation of your software. There are two key points to factor in: updates and security. Do a quick background check on why this particular tech is used. Inquire information about maintenance and the frequency of the software updates. Ask for previous iterations for comparison. When it comes to security, ask for the method(s) that are used to address this. People's money is of the utmost importance and it is well-known that there are malicious parties out there looking to exploit unwary newcomers.
There are many suppliers and middle men, who nowadays offer their services in LatAm. Some of them are strong and reliable, but others are not, and it's always your responsibility and liability when it comes to fraud penetration and financial loss. Also, it is always possible to build your own payment system and connect it to banks. However, technical security still matters.
Payment methods popular in LatAm
Latin America comprises 33 countries. Each of them have different payment options, including local ones. Such as bank transfers, debit and credit cards, some e-Wallets and alternative payment methods. And, of course, crypto.
A country is typically chosen because of access to convenience and choice. In plain terms, the more access there is to popular and international payment options in said country, the more lucrative it is as a destination.
As an example, here are the 3 biggest countries and their most famous payment options:
🇧🇷 Brazil - Pix, Boleto, Picpay
🇨🇱 Chile - WebPay, Bank Transfers, Vouchers
🇲🇽 Mexico - Bank Transfers, Cash, Vouchers and SPEI
Transaction security
One of the most important concerns is that of security. It should address any payment integrations and customer interactions, providing protection from any kind of penetration, fraud or abuse of the operations.
It is mandatory to have end-to-end encryption when a customer communicates with the website or directly with the banks, when confirming any payments. It is also necessary to have in place all the possible whitelists between the processing parties and the security signatures, generated by the secret algorithm rules. Another mandate is to have an "https web protocol" on each of the steps, when performing the customers transactions.
Currency and financial regulations
Because of the state of affairs between all countries of the LatAm region, it is important for a payment solution to be able to accept payments in local currencies. On the surface, the politics of this content are dynamic, which suggests a level of uncertainty. However, most countries are, in fact, experiencing positive growth. Moreover, with the formation of the BRICS union, Brazil will likely lead the way to a more stable economic future in the vicinity, endowing local currencies with trust.
As for the financial regulations, in the majority of cases, all payment options are based on the National Bank of each respective country and its regulations. For example, to issue new merchant accounts, to apply and to use the exchange rate where needed, etc.
Payment processing challenges
The only challenges that cannot be addressed are the dependencies on the National Bank. Every payment provider, initially or ultimately, processes their transactions via the National Bank. When this bank experiences maintenance or other scenarios of downtime, everyone is obliged to wait until it ends.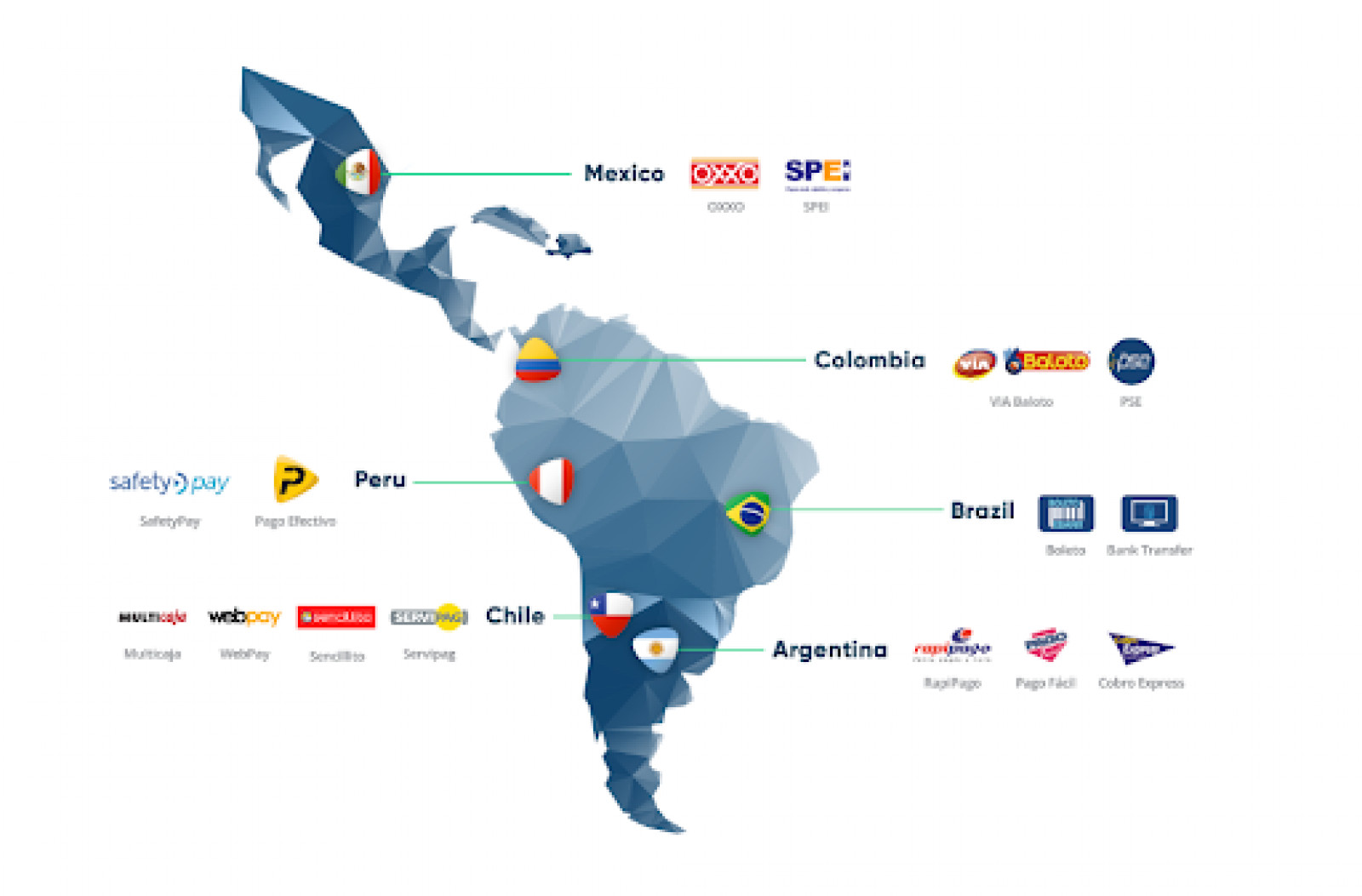 Payment systems. According to statistics, in LatAm, 54% of consumers prefer digital payment methods, while 46% prefer to use cash. Source: https://traff.ink/articles/perspektivy-gemblinga-v-LatAm-v-2023
Customer Support and Service
By focusing on robust support channels, effective complaint resolution, and enticing loyalty programs, your online casino can build a strong customer service foundation in the LatAm market.
Support channels and languages
Live chat:
Implement a responsive live chat feature available 24/7 to address immediate queries. Ensure support agents are well-versed in multiple languages relevant to the LatAm region.
Email support:
Provide a dedicated email support system for non-urgent matters. Clearly communicate response times to manage customer expectations.
Phone support:
Consider offering phone support, as some customers may prefer this method. Ensure phone support is available in major languages spoken in the LatAm region.
Multilingual website:
Your website should be available in the most commonly spoken languages across Latin America to cater to a diverse audience.
Social media engagement:
Utilise social media platforms for customer support and engagement. Respond promptly to messages and comments on social media channels.
Handling customer complaints
It is recommended to:
Establish a clear complaints procedure >> Create a transparent process for customers to submit complaints. Ensure the procedure is prominently displayed on your website.
Have a dedicated support team >> Have a specialised team to handle escalated complaints and issues. Provide ongoing training to support staff on conflict resolution.
Learn from feedback >> Analyse customer feedback and complaints to identify patterns and areas for improvement. Use feedback as a tool for continuous enhancement of your services.
Have quick resolution policy >> Strive for quick and efficient complaint resolution to maintain customer trust. Communicate clearly with customers about the resolution process.
VIP and loyalty programs
Tiered VIP programs >> Create tiered VIP programs to reward loyal players. Offer exclusive benefits, such as personalised account managers and faster withdrawals, to higher-tiered members.
Loyalty points and rewards >> Implement a comprehensive loyalty points system tied to gameplay. Allow players to redeem points for bonuses, free plays, or exclusive merchandise.
Personalised offers >> Tailor promotions and offers based on individual player preferences and behaviours. Use data analytics to understand player habits and provide targeted incentives.
Communication and engagement >> Regularly communicate with VIP players, updating them on exclusive events or promotions. Foster a sense of community among VIP members.
⁉️ FUN FACT:
According to a study by the Harvard Business Review, customers who have a positive service experience are not only more likely to continue doing business with a company but also tend to become advocates for the brand. The study found that customers who had the best past experiences spend 140% more compared to those who had the poorest experiences.
Marketing and promotion
Promoting brands in the gambling industry in Latin American markets requires a nuanced approach due to the region's diverse cultures, regulations, and languages. Here's an overview of strategies and considerations for affiliate marketing, customer acquisition, and retention in this industry:
Localised marketing strategies
a. Understand the regulatory landscape:
Familiarise yourself with the specific gambling regulations in each LatAm country. Regulations can vary significantly, and compliance is crucial.
b. Translation and localization:
Translate your content into the relevant languages for each target market. Ensure that your content is culturally appropriate and resonates with the local audience.
c. Cater to local preferences:
Adapt your offerings to cater to the specific preferences and favourite games of each market. For instance, sports betting might be more popular in some countries, while others might prefer casino games.
d. Payment methods:
Offer payment methods that are widely used and trusted in each country. Local banking and payment solutions can make a significant difference in attracting customers.
e. Local SEO:
Optimise your site for local search engines and implement SEO strategies specific to each market.
f. Content creation:
Create content that discusses gambling and casino-related topics specific to the region, such as local tournaments, gambling events, and cultural references.
Affiliate marketing
a. Choose reputable affiliate programs:
Partner with well-established and reputable gambling affiliate programs. Look for programs that offer competitive commission rates and provide marketing materials and support.
b. Niche targeting:
Identify niche markets within LatAm, such as specific countries or types of gambling (e.g., sports betting, online casinos), and tailor your affiliate marketing efforts accordingly.
c. Quality content:
Provide high-quality and informative content that educates and entertains potential players. This can include reviews, guides, and tips related to gambling in the LatAm market.
d. Mobile optimization:
LatAm has a growing mobile user base. Ensure your affiliate site is mobile-friendly, as many users access gambling sites on smartphones.
e. Email marketing:
Use email marketing to reach potential customers and keep them informed about promotions, events, and updates related to the gambling sites you're promoting.
About customer acquisition and retention
a. Bonuses and promotions:
Offer enticing bonuses and promotions to attract new players. These can include welcome bonuses, free spins, and loyalty programs.
b. Customer support:
Provide excellent customer support in the user trust and satisfaction.
c. Loyalty programs:
Implement loyalty programs that reward frequent players with exclusive offers and rewards.
d. Regular content updates:
Keep your site fresh with regular content updates, including news, reviews, and informative articles related to the LatAm gambling market.
e. Social media engagement:
Actively engage with users on social media platforms popular in LatAm, such as Facebook, Twitter (now X.com), and Instagram. Use these platforms to promote your affiliate site and interact with potential players.
f. Data analysis:
Analyse user data and feedback to refine your for customer acquisition and retention. Adjust your approach based on what works best for your target market. Remember that the LatAm market is diverse, and success can vary from country to country. Continuously monitor and adapt your strategies to stay in line with changing market dynamics and regulations. Building trust and providing a personalised experience for players in each market will be key to your success in promoting affiliate sites in the LatAm gambling industry.
These steps will ensure a better than average success in the region. However, it is important to base your decisions on local feedback and data.
Conclusion
Recap of key steps
➥ Do the market research:
Understand the regulatory environment in each target country within LatAm.
Analyse the competition and identify your target audience.
Study consumer behaviours and preferences in the region.
➥ Ensure legal compliance:
Consult with legal experts familiar with gambling regulations in each target country.
Obtain the necessary licences and permits. This may require dealing with different regulatory bodies in each country.
Comply with anti-money laundering (AML) and know your customer (KYC) regulations.
➥ Business structure:
Decide on a business structure, such as forming a local entity or operating as a foreign company.
Establish banking relationships that can handle online gambling transactions.
➥ Technology, software and platform selection:
Choose a reliable iGaming software provider. This includes casino software, payment processing, and security solutions.
Develop or customise the platform to meet local regulatory requirements and provide a seamless user experience.
➥ Payment processing:
Integrate secure and regionally relevant payment gateways to facilitate deposits and withdrawals.
Ensure compliance with local financial regulations.
➥ Games and content:
Select a diverse range of casino games that cater to the preferences of the local audience.
Partner with game developers or providers to ensure a rich gaming library.
➥ Security measures:
Implement robust security measures to protect user data and transactions.
Comply with international standards for online gambling security.
➥ Customer support:
Set up multilingual customer support to assist players in their native languages.
Provide support through various channels, including live chat, email, and phone.
➥ Marketing and promotion:
Develop a comprehensive marketing strategy to attract and retain players.
Utilise online and offline channels, considering the cultural nuances of each target market.
Implement responsible gambling practices and promote them as part of your brand identity.
➥ Launch and operations:
Conduct thorough testing of the platform to ensure functionality and security.
Launch the online casino in phases, starting with a soft launch to address any issues.
Monitor and optimise operations based on user feedback and performance metrics.
➥ Regulatory compliance and updates:
Stay informed about changes in regulations and adapt your operations accordingly.
Regularly update your platform to comply with any new requirements.
➥ Partnerships and affiliations:
Consider forming partnerships with local businesses, affiliates, and influencers to increase visibility.
Leverage affiliate marketing to drive traffic to your platform.
➥ Reporting and auditing:
Implement reporting tools to track key performance indicators (KPIs).
Conduct regular audits to ensure compliance and fair gaming practices.
Future outlook for online casinos in LatAm
Legislation and regulation
Many countries in LatAm are in the process of legalising and regulating online gambling. As governments establish clear frameworks, it provides a safer and more stable environment for online casinos to operate. This regulatory shift encourages reputable operators to enter the market, boosting consumer trust and participation.
Increased internet accessibility
The region is experiencing a steady increase in internet accessibility, allowing a larger portion of the population to access online casinos. This expansion of the online user base is expected to drive demand for online gaming and betting platforms.
The growing middle class
Latin America's middle class is expanding, leading to increased disposable income for entertainment, including online gambling. As more individuals in the region attain higher income levels, the online casino industry is likely to benefit from increased spending on leisure activities.
Mobile gaming
The proliferation of smartphones and mobile devices in LatAm is driving the growth of mobile gaming. Online casinos are adapting their platforms to be mobile-friendly, making it convenient for users to play their favourite games on the go. Mobile gaming is expected to be a significant driver of market expansion.
About cultural acceptance
Latin American societies have a strong tradition of gaming and betting, with various forms of gambling deeply rooted in their culture. This cultural acceptance, combined with a younger demographic that is more open to digital entertainment, bodes well for the future of online casinos in the region.
Partnerships and investments
International gaming companies are increasingly eyeing LatAm as an emerging market. They are forming partnerships and making investments to tap into the region's potential. These collaborations can bring expertise and resources, which will contribute to the industry's growth.
While the outlook for online casinos in LatAm is promising, there are challenges to overcome, including regulatory hurdles, responsible gambling concerns, and competition. With the right strategies and a focus on local preferences and regulations, it's possible for online casinos to have a strong presence and prosper in the region.
💡Reference Links for Deeper Insights:
Latin America Call Center Outsourcing | TDS Global Solutions
Outsourcing to Latin America: A guide
LatAm Gaming Market
Gambling prospects in Latham in 2023
Statista - 2022 US GGR report
Gambling in Latham: everything you need to know in 2023
Gambling and Sports Betting customers' insights data in Brazil
Most popular tournaments in Spain and Latin America in October 2022
Active eSports players in Latin America 2022 | Statista
Rating of top websites
Caliente Casino Review - Slots, Live Dealers, Pros & Cons + Rating (2023)
An overview of the Latin American online gambling market and opportunities | Yogonet International
Gambling in LATAM: Opportunities and Challenges
Analysis and Prospects of the LatAm Online Gambling Market
LATAM Gambling Update: What's hot in Latin America? - Lexology
Unlocking LatAms iGaming potential
LatAm-gambling-industry-expects-unprecedented-growth-in-2023
Navigating the explosion of iGaming in the US, Canada & Latin America
LatAm gaming market
Gambling and Sports Betting customers' insights data in Brazil
Most popular tournaments in Spain and Latin America in October 2022
Active eSports players in Latin America 2022 | Statista
Caliente Casino Review - Slots, Live Dealers, Pros & Cons + Rating (2023)
What you need to know: Breaking down the gambling landscape in Latin America
Responsible gambling review 2023 and 2024 LatAm
Crypto Gambling Regulations in LatAm
CAP. 152, GAMING CONTROL ACT
CMF
Software Outsourcing South America: An In-Depth Guide